News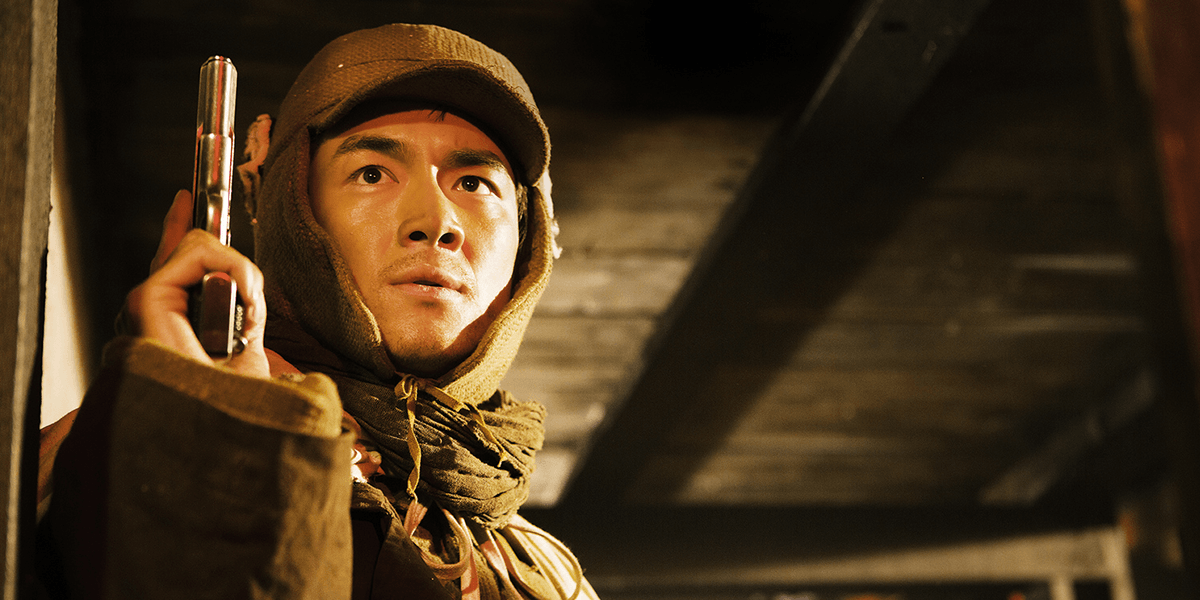 The Taking of Tiger Mountain: The Finest 3D Visuals Blockbuster in Chinese Cinema
Posted on

2015-01-01

Source
Just as Tsui Hark revamped the sedate, two-decades-long chopsocky series "Wong Fei-hung" into the rollicking martial-arts epic "Once Upon a Time in China," so the Hong Kong genre-meister has transformed a Chinese communist propaganda classic into a barnstorming period actioner with "The Taking of Tiger Mountain." Boasting arguably the finest 3D visuals in recent mainland cinema while retaining the original chronicle's populist ideals, this account of the People's Liberation Army's strategic ambush of a bandits' lair delivers sinewy battles and twisty espionage with a husky northern flavor. It topped the Chinese box office upon its Dec. 23 release and should wow bona fide Asian genre fans.

Extracting a famous episode from Qu Bo's fact-based novel "Tracks in the Snowy Forest" ("Lin hai xue yuan"), "The Taking of Tiger Mountain" was one of eight revolutionary operas (yangbanxi) promulgated by Mao Zedong's wife Jiang Qing during the Cultural Revolution. In 1968, it became the first yangbanxi to be adapted for the screen, by Xie Tieli. Mainlanders born before the 1980s all know key lines by heart.

Tsui's version has preserved the opera's basic storyline while invigorating its subplots with more dramatic momentum; he's also kept the novel's large roster of characters and fleshed out the main roles. Moreover, he boldly invests the figure of the undercover agent, a popular icon in mainland patriotic films, with characteristics of the mole, that staple of so many Hong Kong cop thrillers. Typical of a Tsui film, the villains, dressed in trendy goth gear, are more fun than the good guys.

The main story is bookended by a contempo prologue and epilogue, set in New York and China's Heilongjiang province, respectively, prompting one to marvel at how far the Chinese have forged ahead from their impoverished war-ravaged past, while underscoring the new generation's utter detachment from their forebears' revolutionary zeal.

Back in 1946, the PLA has scored a resounding victory against the ruling Nationalists (KMT) in Dongbei region, formerly the Japanese puppet state Manchukuo. While the Chinese Communist Party (CCP) busily consolidates its new territory, bandits exploit the chaos to loot and terrorize peasants. PLA Capt. Shao Jianbo, code name 203 (Lin Gengxin, "The Old Classmate," "Young Detective Dee"), leads a small platoon stationed at Leather Creek to destroy Tiger Mountain, a former Japanese arsenal, now the impregnable stronghold of bandit king Hawk (Tony Leung Ka-fai).

Tsui and his five fellow scribes have ruthlessly condensed copious historical background into a single introductory voiceover, hacking away chunks of long-winded ideological rhetoric. The first action setpiece kicks off less than seven minutes into the film, which sees Tsui trading his signature high-wire martial arts for the brawny rigor of military combat, the realism of which is heightened by an impressive array of authentic WWII weaponry.

Det. Agent Yang Zirong (Zhang Hanyu, "The Assembly," "The Message") and army nurse Bai Ru, nicknamed L'il Dove (Uighur beauty Tong Liya), are assigned to assist 203 in his mission. Opportunity knocks when they capture KMT lackey Luan Ping (Gui Yiheng), who has acquired a valuable military map. Yang volunteers to infiltrate Tiger Mountain by posing as defector from Hawk's rival gang and presenting the map to him as a tribute. Complex factors like the aftermath of the Japanese invasion, the legacy of warlord Chang Hsueh-liang, and the KMT's collusion with bandits all come into play in this operation, but in the filmmakers' haste to move things along briskly, their exposition may seem muddled to audiences unfamiliar with the context.

Once Yang gains admittance to Tiger Mountain, the film crosses over into genre terrain. The episodes in which he deflects danger, outwits opponents and forms a dicey liaison with Hawk's foxy concubine Qinglian (Yu Nan) are all ably plotted. What's lacking is nail-biting suspense; despite all the buildup about Hawk's treacherous, mistrustful nature, it doesn't take any riveting mind games for Yang to insinuate himself into the king's favor.

The film's strength really lies in its thrilling pace and robust action, elaborately choreographed and executed to involve a large ensemble of characters in a gripping way. The best example is an armed clash in which 203's outnumbered platoon valiantly fights with homemade snares and primitive weaponry. The style not only vividly re-creates the guerrilla tactics the PLA is proud of, but also tips its hat to "Seven Samurai."

In the opera, the PLA are glorified as flawless and heroic fighters who have the people's unconditional support. In this version, relations among soldiers and peasants are enlivened by strife, misunderstandings and personality clashes, such as the straight-laced 203's initial disdain for the deadbeat Yang. Dongbei native Lin evinces a northern hardiness clearly distinct from the suave heartthrobs he's used to tackling in martial-arts and period dramas. Zhang, who rose to fame playing macho, patriotic officers, coasts through numerous disguises and reversals, but his is not a layered character.

Tech credits, especially the stereoscopic effects by Korea's Dexter and Mofac studios, are top-of-the-line. Hong Kong lenser Choi Sung-fai, who worked on Tsui's other 3D blockbusters, "Young Detective Dee" and "Flying Swords of Dragon Gate," conveys the fury of battle with robust camera movements, while capturing Heilongjiang's breathtaking pine forests and snow-capped cliffs with widescreen splendor. Production designer Yi Zhenzhou ("Hero") works wonders with a stark color scheme of gray, white, red and brown, fashioning striking contrasts between coarse peasant cottages and the exotic, Middle Earth-like bandit hideouts. Wu Wai-lap's quietly dignified score thankfully avoids tacky "modern medleys" of the original's arias.